Gardener of the Sea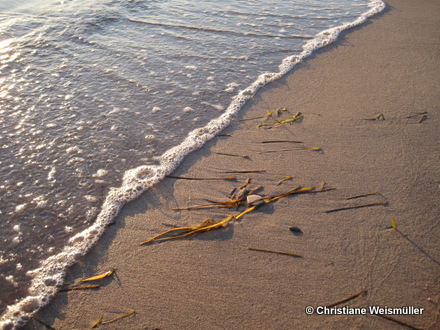 My hands are bare
Without a stone, a shell, a seed.
Only salty water and white sand
Running through my fingers –
Where are the fruits of the sea?
(© Christiane Weismüller)
Dark Waves
Coming unseen
Bringing the unknown
And forgotten with them.
In the dark
Dreams and fears
Come to life again.
(© Christiane Weismüller)
Seaking my shells of
Experiences, talents and dreams,
Many different colours, shapes and surfaces –
Faces shaped by the sea.
Waves weaving
My wrinkles, shadows and lines –
How can I cope with the
Tides of Life?
(© Christiane Weismüller)
Three stones from the beach
In the colours of the waves.
Water-colour blue, dark-indigo
And white
Like the breaking of waves.
One smoothly shaped
And round.
One with rough edges
And lines.
One showing the sand's traces
And glitter of light –
So which which one would
You like to be?
(© Christiane Weismüller)
Does the seagull
Ever fly without a goal
Over the sea?
You will never know –
Just try to let
Your goals sometimes fly
To see which seagull
Will come to sit
On your hand for a while.
(© Christiane Weismüller)
Fisherboats leaving the shore,
Crossing the sunlight,
Searching the
Fruits of the sea.
No planning, no sowing, no caring:
Gardeners of the sea.
(© Christiane Weismüller)